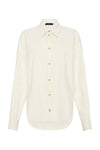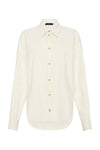 womens wide cord shirt
final sale
Sold Out $80.00​
our classic shirt in a spanish brushed cotton corduroy. with classic shirting details including tortoiseshell buttons and scooped side hem.
wear with the wide cord super lo slung pant and the padded hiker sandal.
spanish brushed cotton corduroy
designed and made in australia
main: 97% cotton 3% spandex
contrast: 100% organic cotton
style code: AW22WFT21
receive free shipping on all orders over 100aud australia wide.
free shipping to new zealand on orders over 300aud.
free returns within australia. sale items can be returned for credit voucher only, unless marked as final sale.
sustainability
globally certified
the use of natural fibres is better for the environment, as they bio-degrade quickly closing the loop on their life cycle.
size guide
| | | | | | | | |
| --- | --- | --- | --- | --- | --- | --- | --- |
| body measurements (cm) | size 00 / xxs | size 0 / xs / 24 | size 1 / s / 26 | size 2 / m / 28 | size 3 / l / 30 | size 4 / xl / 32 | size 5 / xxl / 34 |
| bust | 76-78 | 79-81 | 82-86 | 87-91 | 92-97 | 98-102 | 103-106 |
| hip | 83-86.5 | 87-90 | 91-96 | 97-101 | 102-106 | 107-111 | 112-116 |
| waist | 58-60.5 | 61-64 | 65-69 | 70-74 | 75-79 | 80-85 | 86-91 |
| | | | | | | |
| --- | --- | --- | --- | --- | --- | --- |
| body measurements (cm) | size xs / 28 | size s / 30 | size m / 32 | size l / 34 | size xl / 36 | size xxl / 38 |
| chest | 84-88 | 89-94 | 95-99 | 100-105 | 106-110 | 111-116 |
| hip | 82-86 | 87-92 | 93-98 | 99-104 | 105-109 | 110-115 |
| waist | 73-78 | 79-83 | 84-88 | 89-92 | 93-97 | 98-101 |
| sizing conversions | australian | american | european | united kingdom | |
| --- | --- | --- | --- | --- | --- |
| 35 | 4 | 4 | 35 | 2 | |
| 36 | 5 | 5 | 36 | 3 | |
| 37 | 6 | 6 | 37 | 4 | |
| 38 | 7 | 7 | 38 | 5 | |
| 39 | 8 | 8 | 39 | 6 | |
| 40 | 9 | 9 | 40 | 7 | |
| 41 | 10 | 10 | 41 | 8 | |
| 42 | 11 | 11 | 42 | 9 | |
| sizing conversions | australian | american | european | united kingdom | |
| --- | --- | --- | --- | --- | --- |
| 39 | 6 | 6 | 39 | 5 | |
| 40 | 7 | 7 | 40 | 6 | |
| 41 | 8 | 8 | 41 | 7 | |
| 42 | 9 | 9 | 42 | 8 | |
| 43 | 10 | 10 | 43 | 9 | |
| 44 | 11 | 11 | 44 | 10 | |
| 45 | 11.5 | 11.5 | 45 | 10.5 | |
| 46 | 12 | 12 | 46 | 11 | |
| women's sizing conversions | size 0 / xs | size 1 / s | size 2 / m | size 3 / l | size 4 / xl |
| --- | --- | --- | --- | --- | --- |
| australian | 6 | 8 | 10 | 12 | 14 |
| american | 0-2 | 4 | 6 | 8 | 10 |
| european | 34 | 36 | 38 | 40 | 42 |
| united kingdom | 4 | 8 | 10 | 12 | 14 |
| japanese | 5 | 7 | 9 | 11 | 13 |