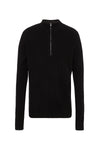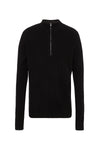 ribbed popover knit
final sale
Sold Out $200.00​
a slim fit zipped knit in textured rib wool and cashmere. with a subtle raised neck and contrast top stitch on the shoulder.
ethically sourced wool and cashmere blend
made in mongolia
designed in australia
90% wool 10% cashmere
style code: AW22MK01
receive free shipping on all orders over 100aud australia wide.
free shipping to new zealand on orders over 300aud.
free returns within australia. sale items can be returned for credit voucher only, unless marked as final sale.
sustainability
globally certified
the fibres in this garment are ethically sourced, following global standards supporting animal welfare.
size guide
| body measurements (cm) | size 0 / xs / 24 | size 1 / s / 26 | size 2 / m / 28 | size 3 / l / 30 | size 4 / xl / 32 |
| --- | --- | --- | --- | --- | --- |
| hip | 83 - 87 | 91 - 95 | 99 - 103 | 107 - 111 | 116 - 121 |
| waist | 58 - 61 | 64 - 67 | 71 - 75 | 80 - 85 | 90 - 95 |
| bust | 81 - 84 | 86 - 89 | 95 - 99 | 103 - 107 | 111 - 115 |
| body measurements (cm) | size xs / 28 | size s / 30 | size m / 32 | size l / 34 | size xl / 36 |
| --- | --- | --- | --- | --- | --- |
| hip | 83 - 87 | 89 - 94 | 99 - 103 | 109 - 114 | 119 - 124 |
| waist | 58 - 61 | 71 - 76 | 81 - 86 | 91 - 96 | 101 - 106 |
| chest | 81 - 84 | 86 - 91 | 95 - 99 | 106 - 111 | 116 - 122 |
| sizing conversions | australian | american | european | united kingdom | |
| --- | --- | --- | --- | --- | --- |
| 35 | 4 | 4 | 35 | 2 | |
| 36 | 5 | 5 | 36 | 3 | |
| 37 | 6 | 6 | 37 | 4 | |
| 38 | 7 | 7 | 38 | 5 | |
| 39 | 8 | 8 | 39 | 6 | |
| 40 | 9 | 9 | 40 | 7 | |
| 41 | 10 | 10 | 41 | 8 | |
| 42 | 11 | 11 | 42 | 9 | |
| sizing conversions | australian | american | european | united kingdom | |
| --- | --- | --- | --- | --- | --- |
| 39 | 6 | 6 | 39 | 5 | |
| 40 | 7 | 7 | 40 | 6 | |
| 41 | 8 | 8 | 41 | 7 | |
| 42 | 9 | 9 | 42 | 8 | |
| 43 | 10 | 10 | 43 | 9 | |
| 44 | 11 | 11 | 44 | 10 | |
| 45 | 11.5 | 11.5 | 45 | 10.5 | |
| 46 | 12 | 12 | 46 | 11 | |
| women's sizing conversions | size 0 / xs | size 1 / s | size 2 / m | size 3 / l | size 4 / xl |
| --- | --- | --- | --- | --- | --- |
| australian | 6 | 8 | 10 | 12 | 14 |
| american | 0-2 | 4 | 6 | 8 | 10 |
| european | 34 | 36 | 38 | 40 | 42 |
| united kingdom | 4 | 8 | 10 | 12 | 14 |
| japanese | 5 | 7 | 9 | 11 | 13 |