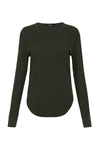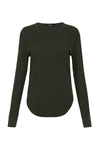 regular waffle long sleeve t.shirt
final sale
Sold Out $60.00​
a regular fit long sleeve t.shirt in cotton waffle. featuring contrast rib heritage neck bind and rib cuffs.
cotton waffle
designed and made in australia
90% cotton 10% elastane
style code: AW22WJT70
receive free shipping on all orders over 100aud australia wide.
free shipping to new zealand on orders over 300aud.
free returns within australia. sale items can be returned for credit voucher only, unless marked as final sale.
size guide
| body measurements (cm) | size 0 / xs / 24 | size 1 / s / 26 | size 2 / m / 28 | size 3 / l / 30 | size 4 / xl / 32 |
| --- | --- | --- | --- | --- | --- |
| hip | 83 - 87 | 91 - 95 | 99 - 103 | 107 - 111 | 116 - 121 |
| waist | 58 - 61 | 64 - 67 | 71 - 75 | 80 - 85 | 90 - 95 |
| bust | 81 - 84 | 86 - 89 | 95 - 99 | 103 - 107 | 111 - 115 |
| body measurements (cm) | size xs / 28 | size s / 30 | size m / 32 | size l / 34 | size xl / 36 |
| --- | --- | --- | --- | --- | --- |
| hip | 83 - 87 | 89 - 94 | 99 - 103 | 109 - 114 | 119 - 124 |
| waist | 58 - 61 | 71 - 76 | 81 - 86 | 91 - 96 | 101 - 106 |
| chest | 81 - 84 | 86 - 91 | 95 - 99 | 106 - 111 | 116 - 122 |
| sizing conversions | australian | american | european | united kingdom | |
| --- | --- | --- | --- | --- | --- |
| 35 | 4 | 4 | 35 | 2 | |
| 36 | 5 | 5 | 36 | 3 | |
| 37 | 6 | 6 | 37 | 4 | |
| 38 | 7 | 7 | 38 | 5 | |
| 39 | 8 | 8 | 39 | 6 | |
| 40 | 9 | 9 | 40 | 7 | |
| 41 | 10 | 10 | 41 | 8 | |
| 42 | 11 | 11 | 42 | 9 | |
| sizing conversions | australian | american | european | united kingdom | |
| --- | --- | --- | --- | --- | --- |
| 39 | 6 | 6 | 39 | 5 | |
| 40 | 7 | 7 | 40 | 6 | |
| 41 | 8 | 8 | 41 | 7 | |
| 42 | 9 | 9 | 42 | 8 | |
| 43 | 10 | 10 | 43 | 9 | |
| 44 | 11 | 11 | 44 | 10 | |
| 45 | 11.5 | 11.5 | 45 | 10.5 | |
| 46 | 12 | 12 | 46 | 11 | |
| women's sizing conversions | size 0 / xs | size 1 / s | size 2 / m | size 3 / l | size 4 / xl |
| --- | --- | --- | --- | --- | --- |
| australian | 6 | 8 | 10 | 12 | 14 |
| american | 0-2 | 4 | 6 | 8 | 10 |
| european | 34 | 36 | 38 | 40 | 42 |
| united kingdom | 4 | 8 | 10 | 12 | 14 |
| japanese | 5 | 7 | 9 | 11 | 13 |