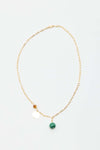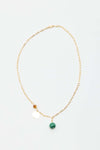 pigna malachite and tiger eye necklace
final sale
Sold Out $160.00​
pigna necklace with malachite and golden tiger eye. chain of 18 ct gold plated silver.
length: 40 - 42.5cm
style code: PN097
receive free shipping on all orders over 100aud australia wide.
free shipping to new zealand on orders over 300aud.
free returns within australia. sale items can be returned for credit voucher only, unless marked as final sale.
from carbon neutrality to ethical production practices, we believe in the importance of sustainability.
learn more about our sustainability practices
sustainability
carbon offset delivery
we have partnered with greenfleet to offset the carbon emissions of all our online shipments. through forest regeneration they also support biodiversity and improve local soil and water quality.
size guide
| body measurements (cm) | size 0 / xs / 24 | size 1 / s / 26 | size 2 / m / 28 | size 3 / l / 30 | size 4 / xl / 32 |
| --- | --- | --- | --- | --- | --- |
| hip | 83 - 87 | 91 - 95 | 99 - 103 | 107 - 111 | 116 - 121 |
| waist | 58 - 61 | 64 - 67 | 71 - 75 | 80 - 85 | 90 - 95 |
| bust | 81 - 84 | 86 - 89 | 95 - 99 | 103 - 107 | 111 - 115 |
| body measurements (cm) | size xs / 28 | size s / 30 | size m / 32 | size l / 34 | size xl / 36 |
| --- | --- | --- | --- | --- | --- |
| hip | 83 - 87 | 89 - 94 | 99 - 103 | 109 - 114 | 119 - 124 |
| waist | 58 - 61 | 71 - 76 | 81 - 86 | 91 - 96 | 101 - 106 |
| chest | 81 - 84 | 86 - 91 | 95 - 99 | 106 - 111 | 116 - 122 |
| sizing conversions | australian | american | european | united kingdom | |
| --- | --- | --- | --- | --- | --- |
| 35 | 4 | 4 | 35 | 2 | |
| 36 | 5 | 5 | 36 | 3 | |
| 37 | 6 | 6 | 37 | 4 | |
| 38 | 7 | 7 | 38 | 5 | |
| 39 | 8 | 8 | 39 | 6 | |
| 40 | 9 | 9 | 40 | 7 | |
| 41 | 10 | 10 | 41 | 8 | |
| 42 | 11 | 11 | 42 | 9 | |
| sizing conversions | australian | american | european | united kingdom | |
| --- | --- | --- | --- | --- | --- |
| 39 | 6 | 6 | 39 | 5 | |
| 40 | 7 | 7 | 40 | 6 | |
| 41 | 8 | 8 | 41 | 7 | |
| 42 | 9 | 9 | 42 | 8 | |
| 43 | 10 | 10 | 43 | 9 | |
| 44 | 11 | 11 | 44 | 10 | |
| 45 | 11.5 | 11.5 | 45 | 10.5 | |
| 46 | 12 | 12 | 46 | 11 | |
| women's sizing conversions | size 0 / xs | size 1 / s | size 2 / m | size 3 / l | size 4 / xl |
| --- | --- | --- | --- | --- | --- |
| australian | 6 | 8 | 10 | 12 | 14 |
| american | 0-2 | 4 | 6 | 8 | 10 |
| european | 34 | 36 | 38 | 40 | 42 |
| united kingdom | 4 | 8 | 10 | 12 | 14 |
| japanese | 5 | 7 | 9 | 11 | 13 |