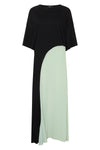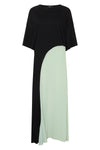 contrast detail short sleeve dress
final sale - use code 'taf25' at checkout for a further 25% off
$276.00​ $460.00​
or four payments of $69.00 AUD with afterpay.
More info
longerline short sleeve jersey dress with contrast silk side panel. made from organic cotton jersey and luxurious silk crepe-de-chine.
designed and made in australia
main: 100% organic cotton jersey
contrast: 100% silk
style code: R23WFD145
cold hand wash separately
dry cleanable
iron on low heat
do not soak or bleach
do not tumble dry
receive free shipping on all orders over 100aud australia wide.
free shipping to new zealand on orders over 300aud.
free returns within australia. sale items can be returned for credit voucher only, unless marked as final sale.
sustainability
certified carbon neutral
this garment is 100% climate active carbon neutral certified. we have measured, managed, reduced and offset all carbon emissions associated with this product, including delivery to your door.
ethically made
by supporting our local makers, we know that they are treated respectfully, paid fairly and work in a safe environment.
natural fibres
the use of natural fibres is better for the environment, as they bio-degrade quickly closing the loop on their life cycle.
renewable energy
this garment is made in Australia in a solar powered facility, reducing our carbon footprint by the use of clean, green energy and a short-supply chain.
size guide
| body measurements (cm) | size 0 / xs / 24 | size 1 / s / 26 | size 2 / m / 28 | size 3 / l / 30 | size 4 / xl / 32 |
| --- | --- | --- | --- | --- | --- |
| hip | 83 - 87 | 91 - 95 | 99 - 103 | 107 - 111 | 116 - 121 |
| waist | 58 - 61 | 64 - 67 | 71 - 75 | 80 - 85 | 90 - 95 |
| bust | 81 - 84 | 86 - 89 | 95 - 99 | 103 - 107 | 111 - 115 |
| body measurements (cm) | size xs / 28 | size s / 30 | size m / 32 | size l / 34 | size xl / 36 |
| --- | --- | --- | --- | --- | --- |
| hip | 83 - 87 | 89 - 94 | 99 - 103 | 109 - 114 | 119 - 124 |
| waist | 58 - 61 | 71 - 76 | 81 - 86 | 91 - 96 | 101 - 106 |
| chest | 81 - 84 | 86 - 91 | 95 - 99 | 106 - 111 | 116 - 122 |
| sizing conversions | australian | american | european | united kingdom | |
| --- | --- | --- | --- | --- | --- |
| 35 | 4 | 4 | 35 | 2 | |
| 36 | 5 | 5 | 36 | 3 | |
| 37 | 6 | 6 | 37 | 4 | |
| 38 | 7 | 7 | 38 | 5 | |
| 39 | 8 | 8 | 39 | 6 | |
| 40 | 9 | 9 | 40 | 7 | |
| 41 | 10 | 10 | 41 | 8 | |
| 42 | 11 | 11 | 42 | 9 | |
| sizing conversions | australian | american | european | united kingdom | |
| --- | --- | --- | --- | --- | --- |
| 39 | 6 | 6 | 39 | 5 | |
| 40 | 7 | 7 | 40 | 6 | |
| 41 | 8 | 8 | 41 | 7 | |
| 42 | 9 | 9 | 42 | 8 | |
| 43 | 10 | 10 | 43 | 9 | |
| 44 | 11 | 11 | 44 | 10 | |
| 45 | 11.5 | 11.5 | 45 | 10.5 | |
| 46 | 12 | 12 | 46 | 11 | |
| women's sizing conversions | size 0 / xs | size 1 / s | size 2 / m | size 3 / l | size 4 / xl |
| --- | --- | --- | --- | --- | --- |
| australian | 6 | 8 | 10 | 12 | 14 |
| american | 0-2 | 4 | 6 | 8 | 10 |
| european | 34 | 36 | 38 | 40 | 42 |
| united kingdom | 4 | 8 | 10 | 12 | 14 |
| japanese | 5 | 7 | 9 | 11 | 13 |