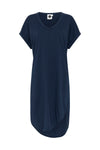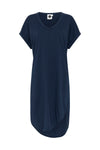 boxy t.shirt dress with tail II
$150.00​
or four payments of $37.50 AUD with afterpay.
More info
a new boxy fit t.shirt dress in single jersey with low scoop neck. featuring heritage bind detail on arms and neckline with twisted side seams with an asymmetric hemline and tail.
single 120gsm cotton jersey with a softly textured grain
100% organic cotton jersey
fabric & garment made in australia
style code: SS18WJD171
height: 178cm / 5'10'
waist - 62cm / 24''
hips - 89cm /35''
bust - 79cm

model wears size 1/ small
machine washable.
pre shrunk.
safe to tumble dry.
we recommend washing in a laundry safe bag using a natural detergent.
receive free shipping on all orders over 100aud australia wide.
free shipping to new zealand on orders over 300aud.
free returns within australia. return within 14 days for a full refund or credit voucher.
sustainability
carbon neutral
this garment is 100% climate active carbon neutral certified. we have measured, managed, reduced and offset all carbon emissions associated with this product, including delivery to your door.
ethically made
by supporting our local makers, we know that they are treated respectfully, paid fairly and work in a safe environment.
organic cotton
we use certified organic cotton, cultivated without the use of toxic pesticides. it is breathable, renewable and better for people and our planet.
renewable energy
this fabric and garment are produced in a facility powered by renewable energy, reducing our carbon footprint by the use of clean, green energy.
size guide
| body measurements (cm) | size 0 / xs / 24 | size 1 / s / 26 | size 2 / m / 28 | size 3 / l / 30 | size 4 / xl / 32 |
| --- | --- | --- | --- | --- | --- |
| hip | 83 - 87 | 91 - 95 | 99 - 103 | 107 - 111 | 116 - 121 |
| waist | 58 - 61 | 64 - 67 | 71 - 75 | 80 - 85 | 90 - 95 |
| bust | 81 - 84 | 86 - 89 | 95 - 99 | 103 - 107 | 111 - 115 |
| body measurements (cm) | size xs / 28 | size s / 30 | size m / 32 | size l / 34 | size xl / 36 |
| --- | --- | --- | --- | --- | --- |
| hip | 83 - 87 | 89 - 94 | 99 - 103 | 109 - 114 | 119 - 124 |
| waist | 58 - 61 | 71 - 76 | 81 - 86 | 91 - 96 | 101 - 106 |
| chest | 81 - 84 | 86 - 91 | 95 - 99 | 106 - 111 | 116 - 122 |
| sizing conversions | australian | american | european | united kingdom | |
| --- | --- | --- | --- | --- | --- |
| 35 | 4 | 4 | 35 | 2 | |
| 36 | 5 | 5 | 36 | 3 | |
| 37 | 6 | 6 | 37 | 4 | |
| 38 | 7 | 7 | 38 | 5 | |
| 39 | 8 | 8 | 39 | 6 | |
| 40 | 9 | 9 | 40 | 7 | |
| 41 | 10 | 10 | 41 | 8 | |
| 42 | 11 | 11 | 42 | 9 | |
| sizing conversions | australian | american | european | united kingdom | |
| --- | --- | --- | --- | --- | --- |
| 39 | 6 | 6 | 39 | 5 | |
| 40 | 7 | 7 | 40 | 6 | |
| 41 | 8 | 8 | 41 | 7 | |
| 42 | 9 | 9 | 42 | 8 | |
| 43 | 10 | 10 | 43 | 9 | |
| 44 | 11 | 11 | 44 | 10 | |
| 45 | 11.5 | 11.5 | 45 | 10.5 | |
| 46 | 12 | 12 | 46 | 11 | |
| women's sizing conversions | size 0 / xs | size 1 / s | size 2 / m | size 3 / l | size 4 / xl |
| --- | --- | --- | --- | --- | --- |
| australian | 6 | 8 | 10 | 12 | 14 |
| american | 0-2 | 4 | 6 | 8 | 10 |
| european | 34 | 36 | 38 | 40 | 42 |
| united kingdom | 4 | 8 | 10 | 12 | 14 |
| japanese | 5 | 7 | 9 | 11 | 13 |